I guess there's not much I can add to the news of the floods that are devastating Australia's eastern states, so forgive me for copying from
A Bit of This and A Bit of That
for this update: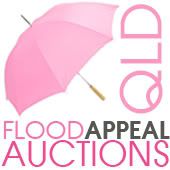 You may have heard about the awful floods in Australia at the moment .... well there are some wonderful bloggers setting up giveaways* and auctions to help raise money for those in need.
Toni at Make It Perfect has got the ball rolling and is organising the auctions (you can see what she is auctioning here). The lovely Jodie at Ric-Rac is having a giveaway*, giving one of her cute elephants and a funky robot, Nic at yardage design is giving a pile of delicious fabrics, and you can win a subscription at Fat Quartlerly. On the weekend Toni will be listing more bloggers who are getting involved. Please pop along and give where you can.
*to enter the giveaways you are asked to make a donation
P.S. while you're feeling warm and fuzzy and benevolent and wanting to help out, why not send a few dollars to
MSF
so that they can continue their great work in helping the victims of disasters that don't make headlines in wealthy countries?
Did you know that Brazil is facing a terrible flood crisis at the moment too, in which more than 250 people have died? My heart breaks for those communities, as they are so much more vulnerable to the ongoing effects of poverty and loss.
Ah, woe ...
My next post will focus on happy things, I promise!